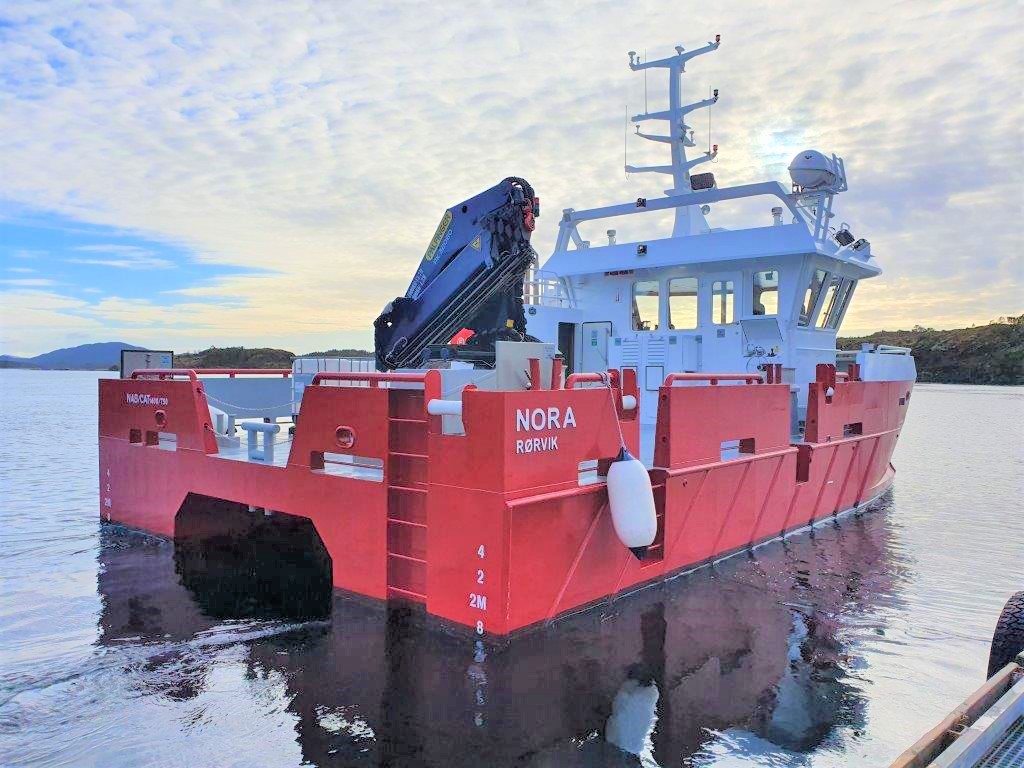 SinkabergHansen receives a brand-new vessel from Moen Marin
For the fourth time, Moen Marin makes a delivery to the aquaculture company.
The salmon producer located on the coastal area of Namdal in Norway, is now expanding its fleet with a NabCat 1475 Arctic. The vessel named "Nora" will serve on a new location named Varholmen north of Brønnøysund.
– SinkabergHansen is growing fast and we need a larger fleet as we now expand with two more sites. There are many reasons to choose Moen Marin as a supplier of boats, but we are particularly pleased with the close follow-up. In addition, Moen Marin are very competent in terms of aftermarket, says Thomas Sørø Olsen, vessel coordinator at SinkabergHansen.
"Nora" measures 14×7 meters and can reach a top speed of 16 knots. Main engine, gear, and propeller systems are all supplied by Nogva, which ensures formidable maneuverability in rough waters on the Helgeland coast. The boat is installed with Furuno navigation systems. A Palfinger PK 32080 (M) D crane is mounted on the spacious working deck.
– Moen Marin provides a thorough check and coursing of all the smart solutions, including the operating management system mLINK. As a customer you feel very safe that all is taken care of, concludes Olsen.
Moen Marin congratulates and wishes the crew many wonderful days on sea.