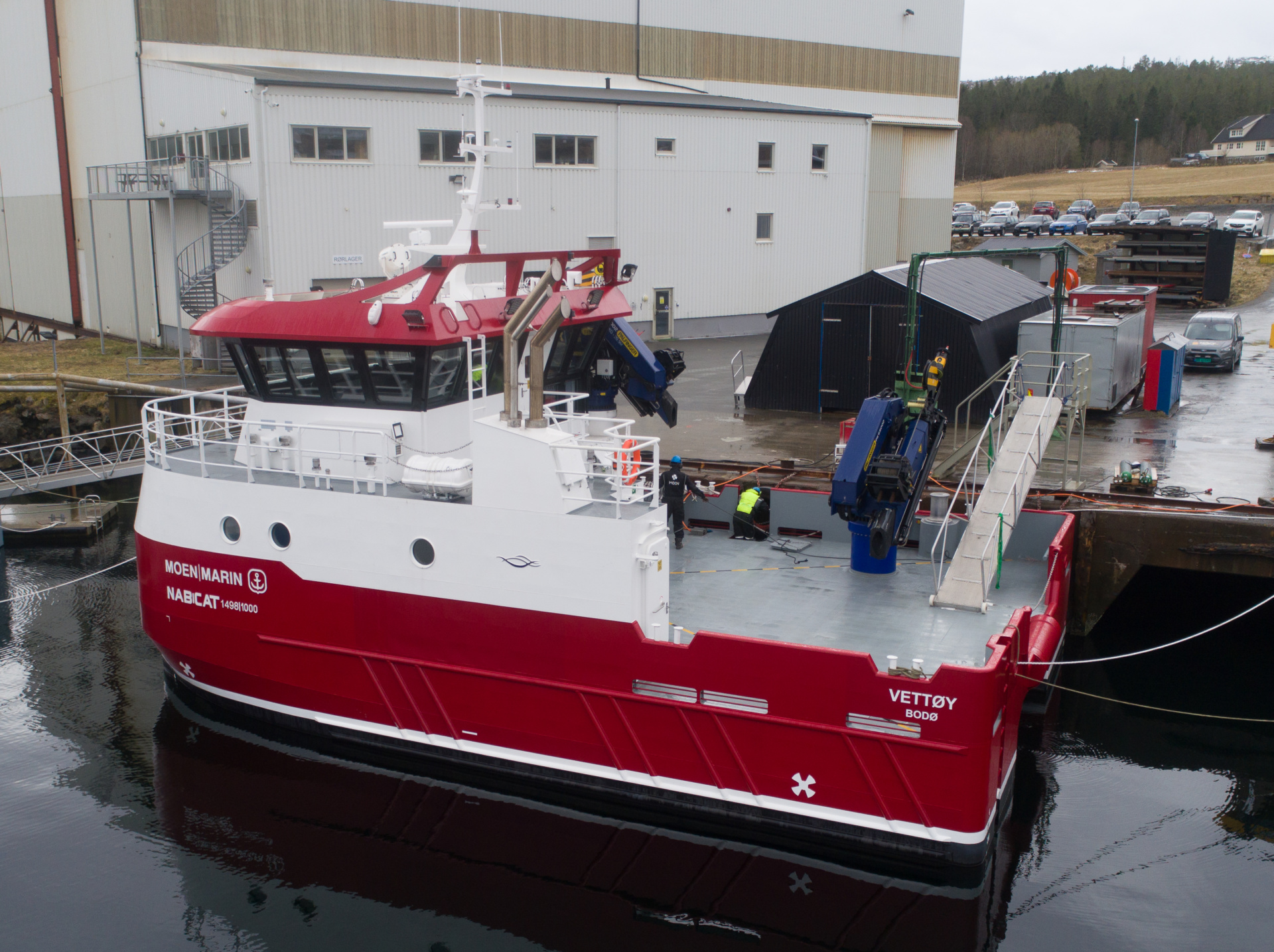 Vettøy – A rugged «Norseman», custom-made for harsh conditions
The catamaran "Vettøy", is the fourth Moen Marin boat to the service company Folden Akva.
The vessel is leased through our collaborating partner MOEN Ship Management (MSM). Last week, "Vettøy" was put into operation by the tenant Folden Akva. The company, based in Steigen in Nordland county, provides maritime services such as diving and ROV surveys along the northern coast of Norway.
Kristian Kristensen, CEO at Folden Akva, is very pleased with the final product, which will be used for tasks such as washing and changing of seine net, and as a substitute vessel during delousing.
– The aquaculture industry is growing fast, and to keep up with this development, we need to expand our fleet as well. When it came to our knowledge that this one was vacant, we made a quick decision to rent the boat, says Kristensen and adds:
– Our past experiences with Moen Marin have been great, and they are very professional in terms of aftermarket. It is easy to do business with them. Each boat has its own project leader responsible for the follow-up, which makes it is very practical for us as a customer
Smarter solutions
"Vettøy" measures 15 x 10 meters and is of the NabCat 1510 DD type. The model has been improved on several areas and comes now with POD solutions in the wheelhouse – for better overview, four cabins and a custom-made low-pressure disinfection system from Mekon.
– We are constantly developing our boats in line with market needs, as well as available technology and solutions. NabCat 1510 DD is one of our most popular catamaran models, and is tailor-made for small and large operations, according to project manager Sindre Mathisen in Moen Marin.
A perfect working tool for rough waters

"Vettøy" is a spacious and generously equipped boat. However, we have not made any restrictions in terms of speed and functionality. two 500-horsepower engines from Nogva, makes sure that "Vettøy" reaches a top speed of 11. Knots.
Despite its picturesque landscape with chalk-white beaches, azure-colored sea, charming villages, islets and inserts, the northern coast is known for its many rough waters. Perhaps some of the "secret" behind "Vettøys" seaworthy qualities can be ascribed to its two rotatable propellers from Nogva, as well as the gear systems from the same supplier.
The boat is also equipped with 2 x ST60-80 thrusters from PMH.
Standardized with two cranes
The model is also standardized with two Palfinger cranes, both with a range of 21 meters.
– A large crane capacity, spaciousness, modern solutions, and good living conditions are some of the main features that makes this a perfect vessel for Folden Akva, Kristensen concludes.
Moen Marin congratulates Folden Akva with their brand-new vessel, and hope that "Vettøy" offers the crew many salty and wonderful days at sea.