Mekon RV-2 Pen Cleaner
Mekon RV-2 Pen cleaner – for washing and disinfection of all pens with or without a sinker tube. Well-equipped and manufactured of high-quality materials – for tough use.
The Mekon RV-2 performs efficient high pressure washing of all pens
up to Ø 500 with Ø 400 sinker tube.

The RV-2 is equipped with disinfection nozzles as standard for
efficient disinfection of the Mekon RV-2 after washing. The pen cleaner also is equiped with nozzle protectors, to avoid ropes, chains, etc.

The RV-2 now comes with a new reinforced hull design that
is more resistant to impacts and shock loads. The new design
makes the barge easier to repair and maintain.
The new hull construction has inspection hatches that allow access to the inside of the barge. The new material choice gives the RV-2 a cleaner surface so that dirt does not stick. The barge is equipped with fender beams on the outer edge to prevent wear and damage.
The RV-2 has an integrated HPU (220V or 400V) and radio control as standard. Time spent on washing rings may vary, but from experience, the washing time is approximately 30-45 minutes when cleaning a 120 m Ø 500 flotation collar with Ø400 sinker tube, under optimal conditions.

The Mekon RV-2 requires a good high-pressure
pump with a minimum capacity of 600 l/min and a working
pressure of 230 – 250 bar.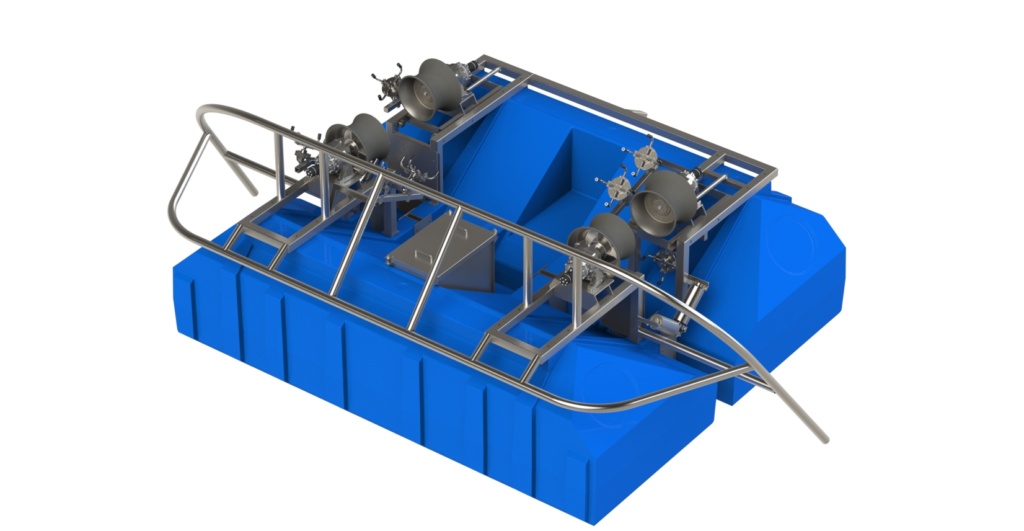 RV-2 main dimensions
| | |
| --- | --- |
| Bridle rejector length | 8,7 m |
| Barge length | 5,5 m |
| Barge Width | 4,71 m |
| Height | 2,6 m |
| Buoyancy | 11 700 kg |
| Weight | 6 000 kg |
The RV-2 comes with 4 dimensioned lifting hooks on the float
| | |
| --- | --- |
| Lifting rings | 1 600 kg – angle tolerance +/- 45° |
| Lifting rings | 7 800 kg – angle tolerance +/- 45° |