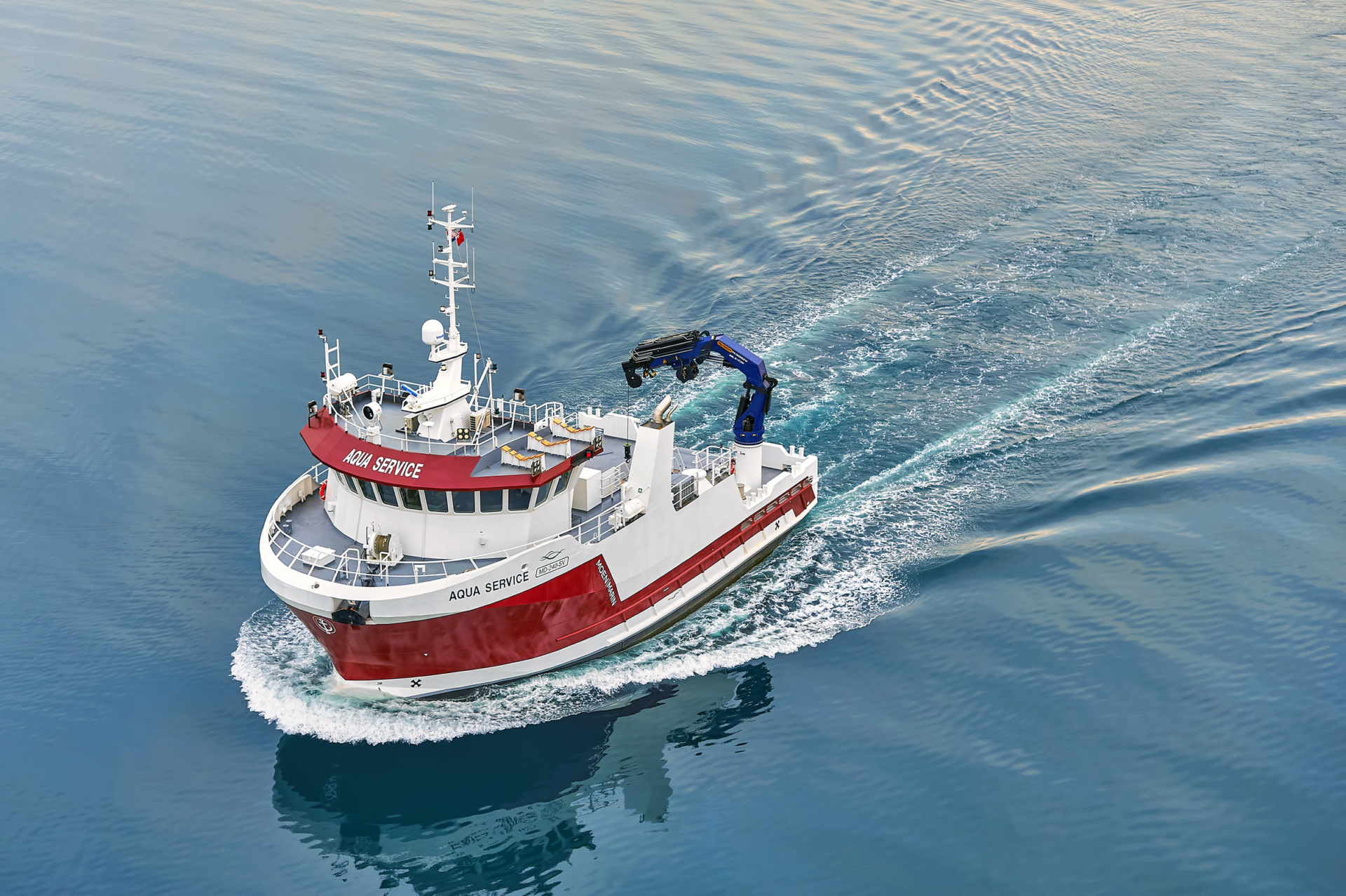 Norwegian design – made for all waters
In all kinds of waters, you will find boats from Moen Marin. From the cold Icelandic fjords to the salty and warm Mediterranean. One of our last deliveries is Aqua Service – a powerful working tool located on the sunny Spanish shore.
Aqua Service is the name of a magnificent vessel, that we recently delivered to the multinational Aquaship-group. The 24-meter-long ship is all Norwegian design and is already in operation as a service vessel on the east coast of Spain.
"practical, rugged, and comfortable" – This is how Angus Johnson sums up the vessel that is specially adapted to Mediterranean conditions, but not without the recognizable Moen Marin-look.
– All boats from Moen Marin are products of high quality, and they are just as seaworthy in the North Atlantic as in the Mediterranean. At the same time, they are adapted to local conditions and the tasks to be performed.
Exceptional service and customer follow-up

Angus Johnson, who is one of the founders of the well-known Shetland based company Johnson Marine Ltd. The company has on several occasions used Moen Marin as a provider of vessels. In 2018, the company merged with Norwegian Gripship and rebranded the company as Aquaship. The new company are the only supplier in the world to own and operate vessels in all four segments of aqua services: Service vessels, harvest vessels, live fish carriers and feeding carriers.
Earlier experiences with the boat builder was decisive for the continuation of Moen Marin as a supplier of boats.
The best feedback we can get, are satisfied customers who return to us for more orders. -Previously, Johnson Marine Limited received two catamarans from Moen Marin. The company is exceptional in terms of service and finding the best solutions – both technical and financial. Predictability and fast delivery are equally good reasons to go for Moen Marin.
Spain – more than sun and beach life

Many people might associate Spain with holiday and beach life, sangria and flamenco. But the country also has rich traditions of seafood and a growing aquaculture industry. In addition, this contributes to significant synergies such as increased employment and a growing demand of aquaculture services.
Aqua Service works on contract for the Andromeda Group and operates on the coastal areas outside Valencia and Alicante. The vessel provides vital services in connection with fish farming of sea bass and sea bream. This includes tasks such as delivering feed, harvesting, mooring and maintenance work.
Modern solutions and better work conditions

All boats constructed at Moen Marin are built to withstand harsh climatic conditions and rough waters, as well as safe operation and modern design. At the same time, we are committed to construct boats that safeguards good working conditions, comfort and functionality. This is stated by Geir Bjørvik Johansen, the project leader for Aqua Service.
Aqua Service comes with a long list of technical specifications, including two cranes. With the most powerful one being a 150 tonne/meter on the aft deck.
Moen Marin have installed chain lock system with hinges, and improved the wheelhouse with POD-solutions, which means that instruments are installed on flat tables instead of using consoles. This gives a neat and modern look and a more specious solution on the bridge. The interior has also been renewed with a fresh and tasteful look.
However, perhaps the most important installation is the air conditioning system (AC) which is installed on all six cabins. On less cooler days the temperature can be as high as 40 degrees Celsius. Without AC it would be very uncomfortable!
– So far, the feedback from the crew has been good and they emphasize the boat's capacity and spacious conditions onboard. Moen Marin safeguards all our requirements, which is why Moen Marin stand out as a good choice, also for future deliveries, Johnson concludes.