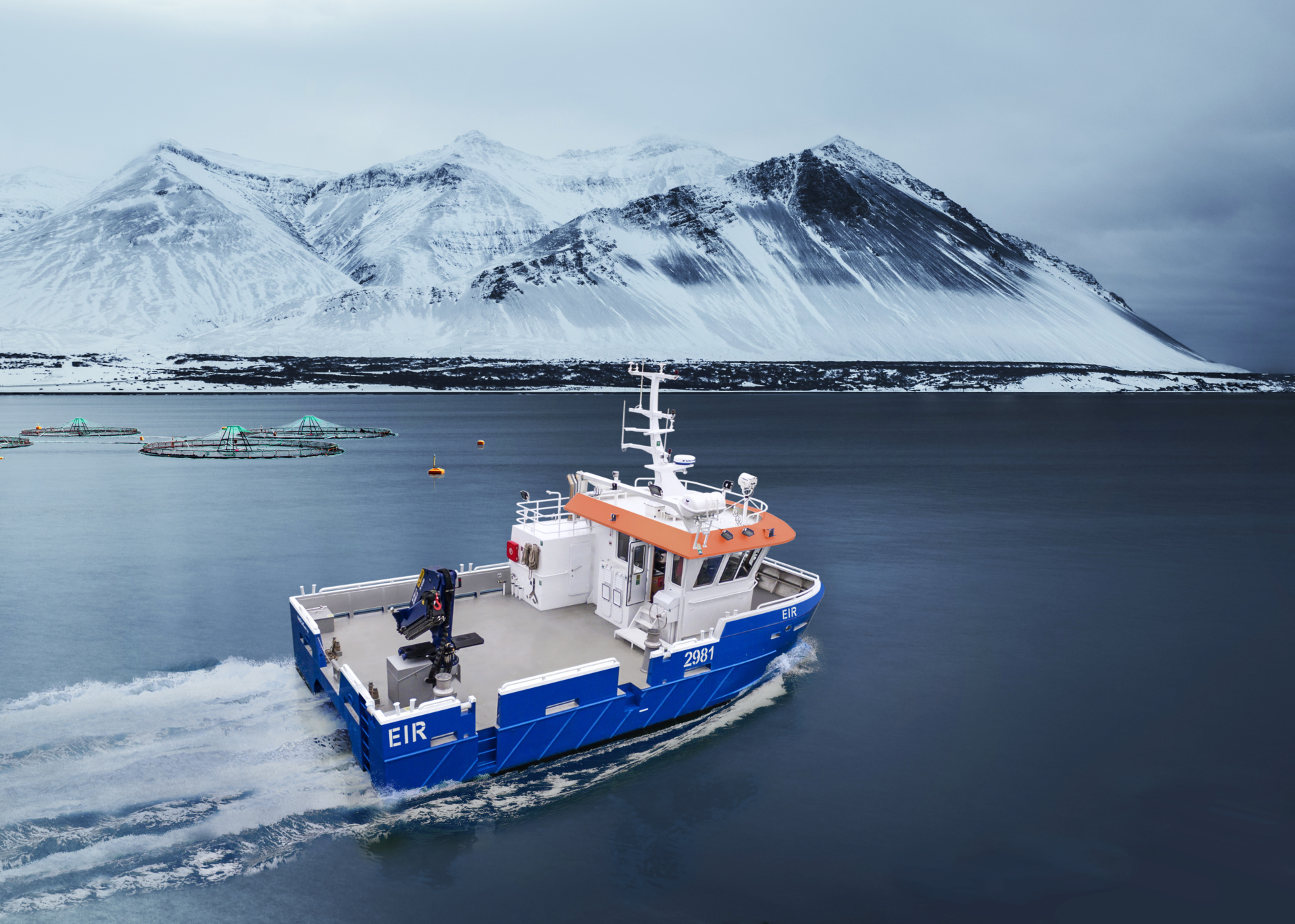 "Eir"- a badass boat made for harsh North Atlantic conditions
The Icelandic aquaculture industry is still in its molding phase. However, there are strong indications that Icelanders are re-writing the saga story. Moen Marin is proud to be a part of this adventure!
Icelanders have a will of steel. Since the Viking era, people on the island shaped by ice and fire have harvested from nature under extreme conditions. Perhaps it is this unique steadiness and ability to make anything out of thin air, that is the secret behind the Icelandic success.
At the same time, the Norwegian experiences on salmon farming has been essential. Norwegian marine competence also plays a key role in the business development on the volcanic island in the North Atlantic Sea.
These days, Moen Marin delivers a brand-new working vessel to the Icelandic aquaculture company Laxar. The company, which is mainly owned by the Norwegian salmon producer Måsøval Fiskeoppdrett, has several locations on the southern and eastern coast of Iceland.
The new boat named "Eir" will be used as a working vessel in Reyðarfjörður.
– In the coming years, we will increase our production from 6,000 tonnes up to 16,000 tonnes per year. Due to this, we also need to expand our fleet. Moen Marin have a good reputation and several Icelandic companies have been using Moen Marin as a supplier of boats, says production manager Gunnar Stein Gunnarsson from Laxar.
"Eir" is the name of a goddess in Norse mythology, and literally means "grace", "tranquility" or "protection" – a suitable name for a vessel specially built for harsh North Atlantic conditions. All boats in the company are given a traditional female Norse name. This is meant as a tribute to the common cultural history between Norway and Iceland.
Improved model for harsh climatic conditions
In Moen Marin, we are constantly developing our models in terms of customer preferences, new requirements, as well as innovative, smart and sustainable solutions.
The NabCat 1475 Arctic measures 14 x 7.5 meters. The latest generation has been extended half a meter in the bow, which provides significantly improved buoyancy. The cylinders on the helm has been strengthened, ensuring the boat's maneuverability on days that are extra challenging.
"Eir" is equipped with a powerful Palfinger PK33002, a fully rotating crane which has an increased range up to 21 meters. The new crane solution ensures functionality and provides better utilization of the working area.
For extra safety, the engine compartment is separated into two chambers. The boat comes with propeller protection, which is prohibited by Icelandic authorities.
High knowledge on the Icelandic market
– It is very rewarding to be part of the Icelandic adventure. In close dialogue with our customers and partners, we have built up a great deal of expertise on the Icelandic market. Moen Marin has the knowledge in terms of regulations and other specific conditions. All our vessels are built to withstand harsh climate conditions, and we strongly believe that "Eir" will live up to its expectations, says Viktor Finseth, sales manager in Moen Marin.
– Moen Marin means quality, and the people behind have a lot of knowledge regarding local requirements. In our business, time is money and it is beneficial that all boats are pre-certified and meet all the required standards. In that way, we can quickly put the vessel in operation. There is also a great distance between many of our locations, and with "Eir", we can reduce the time spend between each one, Gunnarsson concludes.
Moen Marin congratulates Laxar with their brand-new vessel, and we strongly believe it will contribute writing new chapters in the Icelandic salmon saga.